Secret London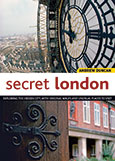 ISBN: 9781504800112
Normal price: £11.99
Secret London is a pot-pourri of chapters which has proved extremely popular with armchair readers and urban explorers alike.
Secret London is a pot-pourri of chapters which has proved extremely popular with armchair readers and urban explorers alike. The first half of the book covers such themes as underground London and who owns London. Part two explores hidden Westminster, St James's and the City in detail and takes the reader to offbeat places to visit such as the Royal Institution and the Charterhouse. The book contains eight walks (totalling 20 miles), three of them along the winding courses of long-buried rivers, and explores 30 unusual places to visit not included in more conventional guidebooks. As usual, each walk has its own detailed map plus full information on transport, refreshments and opening times, and there are over a dozen full-page colour photos.
See the contents

Chapter 1: Hidden Landscape

The Campden spur walk
The Islington spur walk
The Westbourne river walk
The Tyburn river walk
The Fleet river walk

Chapter 2: The Subterranean City

Underground Citadels
Underground Railways
Tunnels under the Thames
Utility Subways
One-Offs and Far-Outs

Chapter 3: Private Landowners

The City Corporation
The Livery Companies
Church Estates
The Crown Estate
Non-Royal Estates
Historic Estates in Kensington and Chelsea

Chapter 4: Taken for Granted

The Lights of Piccadilly Circus
The Statue of Eros
Drinking Fountains
Cabbies' Shelters
The Coade Stone Lion
The BT Tower
Marble Arch
Cleopatra' s Needle
The Oxo Tower
The London Underground Map
Blue Plaques
Dick Whittington

Chapter 5: Westminster

The Palace of Westminster
Westminster Abbey
Westminster School

Chapter 6: Whitehall

Foreign Office
Downing Street
Cabinet Office
Ministry of Defence
Scottish Office
The Admiralty
The Secret Services
Government Art Collection

Chapter 7: St James' s

The Secret World of the Clubs of
St James' s
Exploring the Hidden Courts and Passages of St James' s walk

Chapter 8. The City

City Markets
The Livery
The City – East of St Paul' s walk
The City – West of St Paul' s walk

Chapter 9: Special Collection

Kensington Roof Gardens
Tyburn Convent
House of St Barnabas-in-Soho
Coutts & Co and the Private Banks
Charterhouse
The Royal Institution of Great
Britain
Whitechapel Bell Foundry
Read the introduction

London's streets, squares, alleys and lanes; its parks, heaths, gardens and open spaces; its palaces, villages, docks, canals and rivers – all offer an amazing variety of terrain for the dedicated urban explorer. One minute you can find yourself breezing down some grand thoroughfare or strolling nonchalantly round an elegant square as though you owned it. The next you could be treading cautiously down narrow lanes and dark alleys, peering into cobbled courtyards, squeezing through gates and wickets, tramping through woods or puffing up hill and down dale startling deer and other creatures rare even in the countryside.

Walking London contains nearly 100 miles of walks through this endlessly surprising landscape, more than enough to keep even the most hardened city walker on his or her feet for a good while to come.

There are 30 walks altogether: 29 in London and one – mainly for the benefit of foreign visitors – in Windsor. All the walks are original, invented by me over a winter and a summer and then individually checked by a small army of pedestrian friends.

Each walk acts as a guide to a different part of London. In general, these are the most historic and attractive parts of the capital, the two usually going together. As in conventional guidebooks, the walks take you to most of the well-known places – but they also steer you off the beaten track into forgotten corners of London.

Wherever the walk happens to be, the emphasis is always on the visually attractive and stimulating, not on trying to cover every single place of interest that a guidebook would mention. As you will discover in this book, views take priority over venues.

History plays a strong part in the book – you cannot get away from it in London – but anything interesting, unusual or simply puzzling, whether old or new, gets a mention. My overall aim has been to try to anticipate any questions you may have about anything you can actually see en route and, subject to limitations of space, to provide satisfying answers.

By the time the book was finished, I had got to know large areas of London quite intimately and I realized that in the process my attitude to the city had been quietly but radically transformed. Although never a sufferer from the rootlessness and alienation that blights the lives of so many city dwellers, it suddenly dawned on me that I had actually begun to feel at home here. So much at home, in fact, that I no longer dreamt of returning to the dales and moors of my native Yorkshire. As my outlook changed, so London became a much friendlier place and life in general that much better.

Walking London in its various editions has been guiding visitors and residents around the capital since the early 1990s. Many thousands of people have bought the book, and thousands more have borrowed it from public libraries. If (and it's a big if) all these people had walked all the walks, between them they would have clocked up something like 13,000,000 miles (20,000,000 kilometres)! I hope you enjoy making your own contribution to this somewhat staggering figure; and if any comments, criticisms or suggestions occur to you as you tramp your way through the book, please email them to me or write care of my publishers (address on the imprint page). I'd love to hear from you.