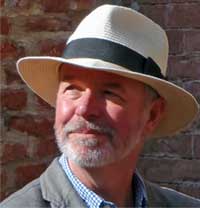 What do you do if you love walking, exploring and history? You walk, you explore, you research, and then after a lot of mulling you create a walking route.
That's what I do anyway, and I've been doing it for the past 30 years, mostly in London where I've lived since the 1980s.
This great city, founded by the Romans in the 1st century AD, is approaching it's 2000th anniversary, so there's no shortage of history to find out about. And filling a 30-mile stretch of the Thames valley, there's no shortage of places to explore. After three decades and wearing out countless pairs of walking shoes, I'm still finding new places to investigate. In fact, I don't think I'll ever run out.
Many of my walks have been published in book form. Many more, created for my London walking group, have not been published yet. One day perhaps, time permitting.
The main thing is, I know my walks and books have enabled many others to begin their own journeys of discovery in the capital. This is important to me because I haven't done all this work just for pleasure. I also have a mission, and my mission is to introduce as many people as possible to the history and heritage of this wonderful city of ours, whether like me they are lucky enough to live here, or whether – perhaps like you – they are visiting from further afield.
Wherever you come from, I wish you happy walking, happy exploring and happy times in London!