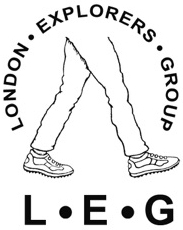 LEG is an acronym for London Explorers Group, an organisation I set up in 2004 and which I now run.
LEG's mission is to provide Londoners with opportunities to explore their city, learn about its history and heritage and find out about what's going on in the capital today in terms of development, regeneration and infrastructure renewal.
Every two months LEG runs a new walk exploring a different part of London, repeating the walk nine times over the two months: three Wednesdays, three Thursdays and three Sundays. From time to time there are specialist walks looking in more detail at particular aspects of contemporary and historic London, for example modern architecture or historic gardens.
Visit the LEG website to find out more.